Asustor AS1004T v2 4-Bay NAS Diskless 1.6GHz Dual-Core Cloud NAS
show / hide sidebar
Product Description
AS1004T v2
Hub multimediale per la casa ad alta capacità
Eccezionali performance di trasferimento
Silenziosità operativa
Basso consumo energetico
Design facilitato per un'installazione toolless
Finitura di stile ad effetto diamantato
Aggiornamento della CPU per migliorare le prestazioni del prodotto
La serie AS10 v2 è stata aggiornata con una nuova CPU dual-core da 1,6 GHz, che è ancora più potente che mai! Grazie all'ottimizzazione hardware e software, il nuovo AS10 V2 può fornire oltre 110 MB/s nelle prestazioni in lettura e in quelle di scrittura oltre i 98 MB/s, il 20% più veloce rispetto alla generazione precedente. Allo stesso tempo, sono state migliorate le prestazioni generali del sistema operativo ADM, l'installazione e l'esecuzione delle app, la navigazione degli album fotografici, il caricamento e il download dei file, il tutto al fine di rendere il lavoro più veloce ed efficiente possibile.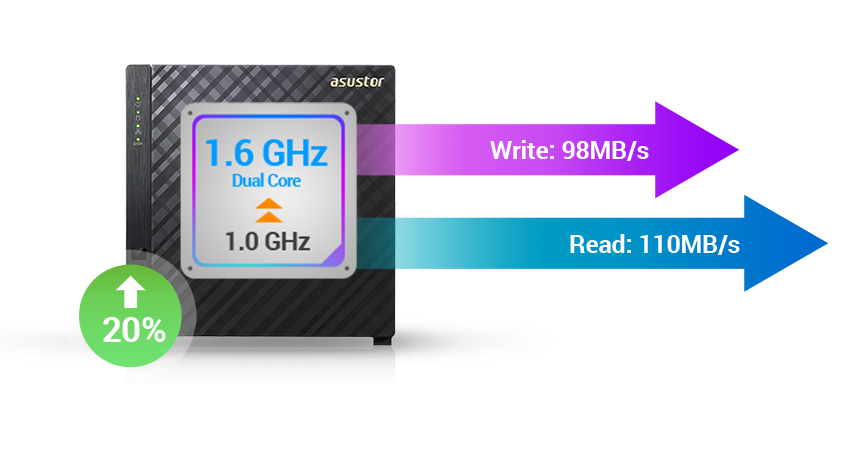 Aggiunge un tocco di modernità agli ambienti
I NAS della serie AS10 ridefiniscono l'estetica di un semplice NAS. Infatti la stilosa finitura con effetto diamantato lo rende elegante e perfetto per qualsiasi luogo, sia esso una sala da pranzo o un ufficio.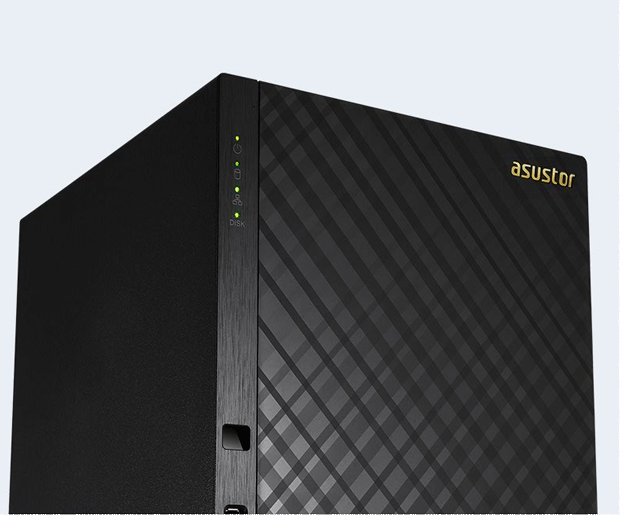 Capacità di configurazione flessibile
La serie AS10 v2 presenta un design con slot per dischi rigidi interni totalmente aggiornato e pienamente compatibile con il formato da 3½ ". Inoltre esso è in grado di supportare HDD con una grande capacità al fine di migliorare la flessibilità di coloro che desiderano realizzare capienti cloud privati.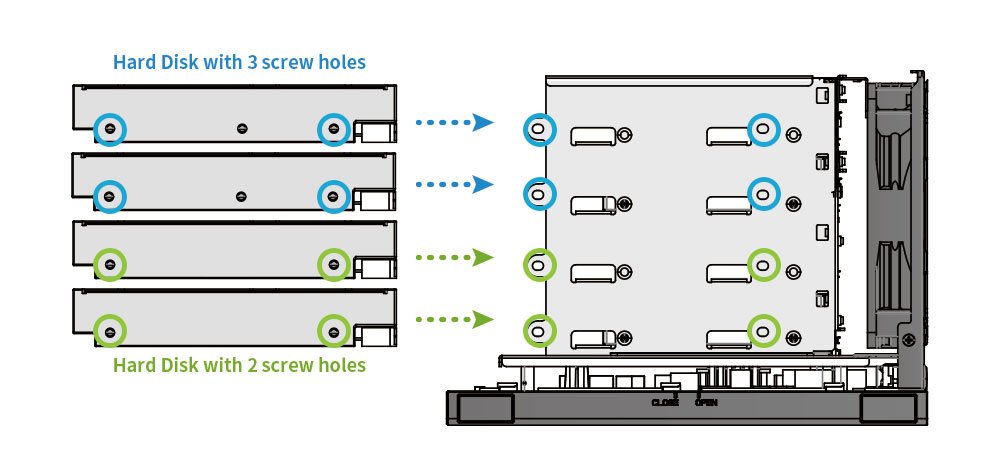 Silenziosità operativa
La serie AS10 produce solo 19dB di rumorosità durante lo standby, equivalente al suono più inudibile come la caduta di uno spillo. Quando il sistema è invece in workload, vengono prodotti solo 32dB di rumore, equivalente al rumore prodotto dalle voci sibilanti in una libreria, permettendo ai device di essere integrati direttamente in qualsiasi ambiente.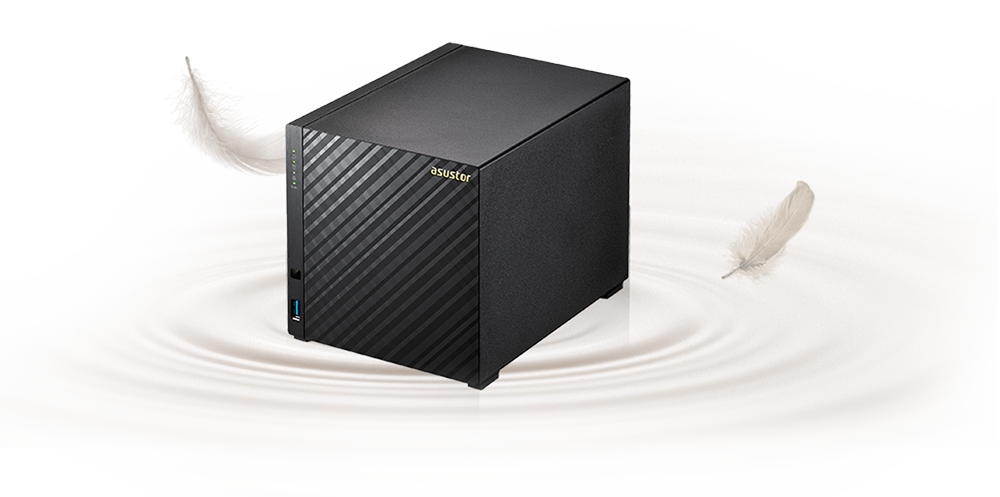 Risparmia corrente e aggiunge valore
I NAS ASUSTOR sono pensati e sviluppati per essere a favore dell'ambiente. Quando in uso le nostre devices consumano meno corrente di un computer o server di medio livello. Inoltre le caratteristiche di controllo avanzato del risparmio energetico permettono di gestire in modo efficiente il vostro NAS e gli HDD. Questo diminuisce la vostra bolletta elettrica e aumenta la durata dei vostri HDD allo stesso tempo. In modalità ibernazione, AS1004T v2 consuma solo 11.3W di corrente. Sotto normali condizioni operative consuma solo 24.6 W di corrente.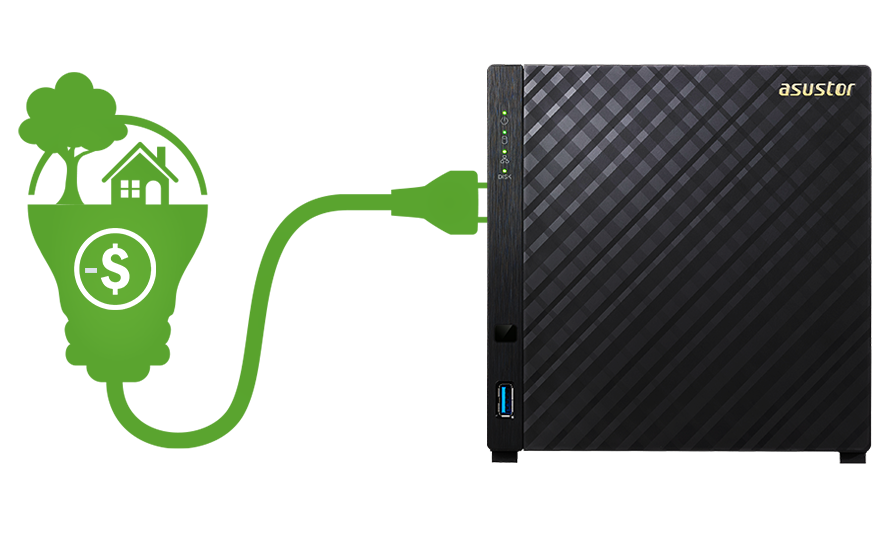 Installazione toolless
Il design della serie AS10 è provvisto di una cover a scorrimento che può essere rimossa facilmente quando necessario. Le guide degli HDD e la cover esteriore utilizzano metodi di bloccaggio che permettono l'installazione o la rimozione degli HDD senza l'ausilio di strumenti.

Installazione senza PC
L'installazione da smartphone è possibile tramite AiMaster e richiede solo tre step! Ricerca del NAS, inizializzazione del sistema e installazione, gestione della corrente, aggiornamento firmare ADM, informazioni di sistema e molto altro è già disponibile nell'app per una maggiore comodità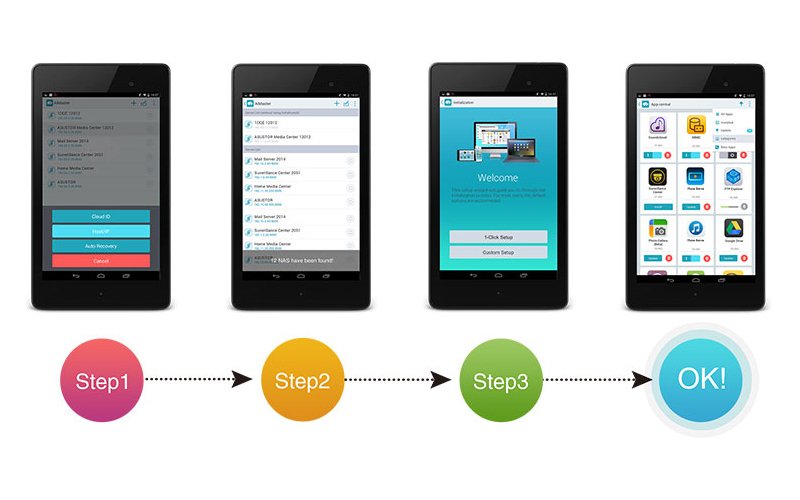 Server multimediale privato
La CPU fornita con la serie AS10, ha una unità FP in grado di processare velocemente una grande quantità di icone di foto, permettendovi di trasferire istantaneamente e navigare le foto in qualsiasi momento. La ricca varietà di applicazioni per server multimediali è in grado di riprodurre fluidamente contenuti digitali ad alta definizione direttamente su device di tipo UPnP/DLNA, Computer basati su Web Browser, Tablet e Smartphone.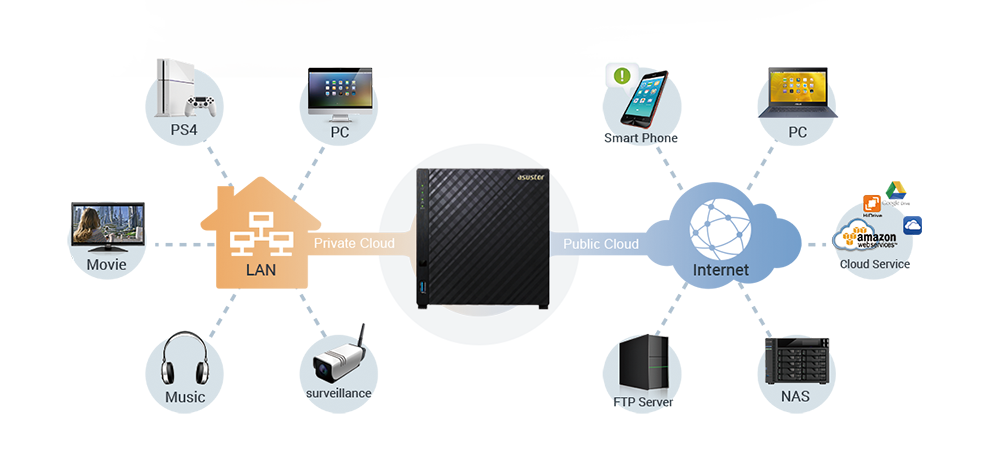 Pure Protection for All Your Data
Il NAS AS1004T v2 consente di installare fino a 4 hard disk, fornendo una protezione dei darti in RAID 1/5/6/10, al fine di garantire allo stesso tempo le funzioni sia di archiviazione sia di backup dei dati. Inoltre, le configurazioni di protezione ADM fornicono una protezione ancora più avanzata per i dati mentre le connessioni di rete sicure consentono di accedere senza alcun tipo di stress.
Firewall
crittografia AES a 256 bit con cartelle condivise
Lista IP attendibili, Lista nera, GEO IP
VPN Connessioni (PPTP, OpenVPN)
connessioni HTTPS (interfaccia web, dispositivi mobili)
connessioni crittografate (FTP SSL /TLS, SSH, SFTP, Rsync e SSH)
notifiche di sistema (e-mail, SMS)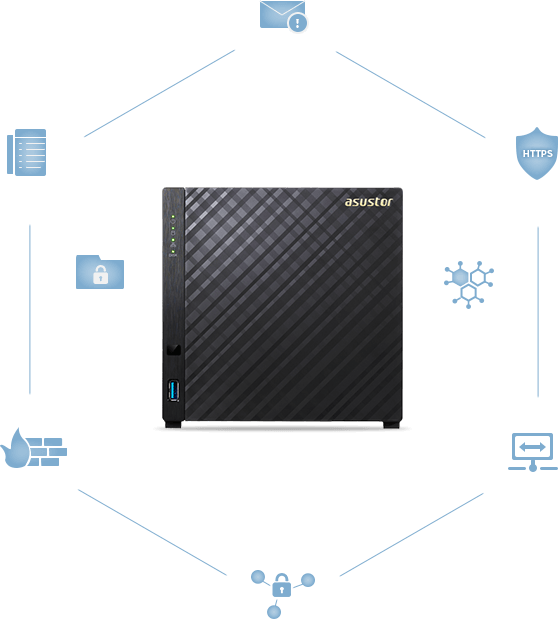 Accesso utenti multi-piattaforma
I ASUSTOR NAS permettono l'accesso multi-piattaforma e multiutente, garantendo quindi piena compatibilità con Windows, MAC OS X e sistemi operativi Unix. Non importa se state usando un PC un Notebook o uno smartphone.
128
---
Connessioni simultanee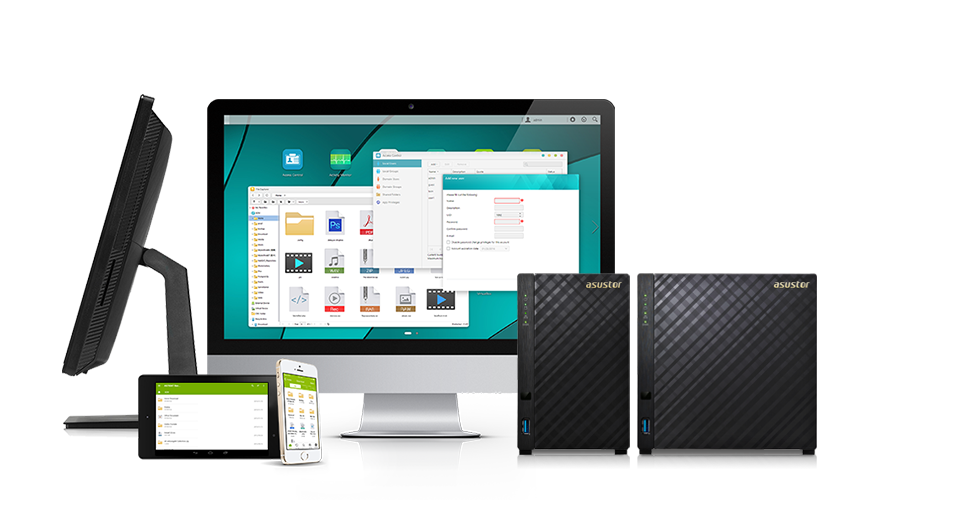 Soluzioni di backup
I NAS AS10 v2 forniscono un ricco set di opzioni di backup e sono connessi ad un'ampia varietà di servizi pubblici di cloud storage come Amazon S3, Dropbox, Google Drive, OneDrive, Box.net, HiDrive, Ralus, WonderBox, xCloud and CrashPlan.

Potete anche utilizzare FTP Explorer, un HDD esterno con interfaccia USB o il Backup locale per assicurare la giusta protezione ai dati. Che stiate usando Windows, MAC OS X o Linux, ASUSTOR fornisce i tool appropriati per il Backup.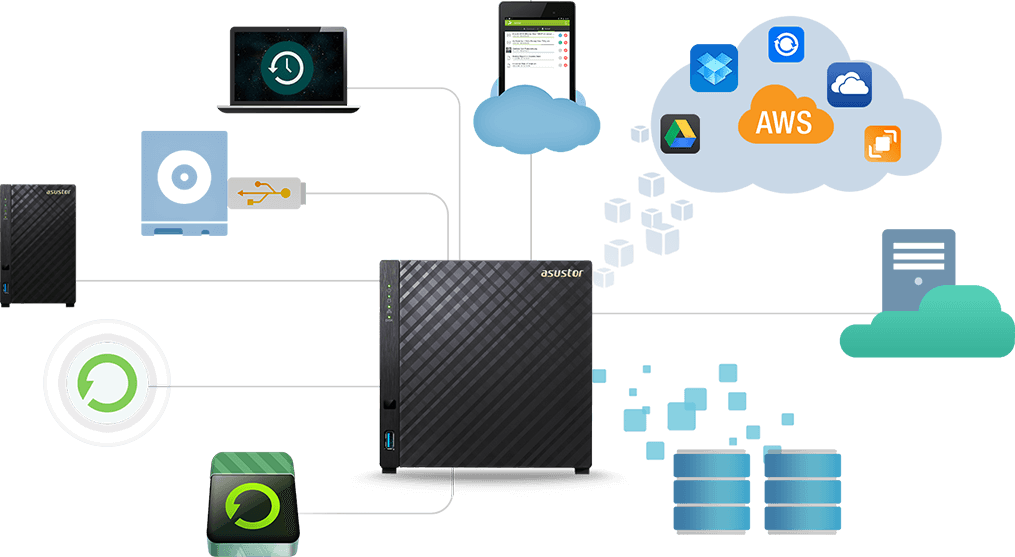 Applicazioni per cellulari
L'esclusiva tecnologia Cloud Connect di ASUSTOR consente di collegare al NAS, da qualsiasi luogo, un dispositivo mobile per accedere e condividere i file. Le applicazioni mobili ASUSTOR forniscono funzioni di blocco tramite codice di accesso, al fine di proteggere la privacy e dati. È anche possibile fare uso di connessioni HTTPS per una maggiore sicurezza e valore aggiunto.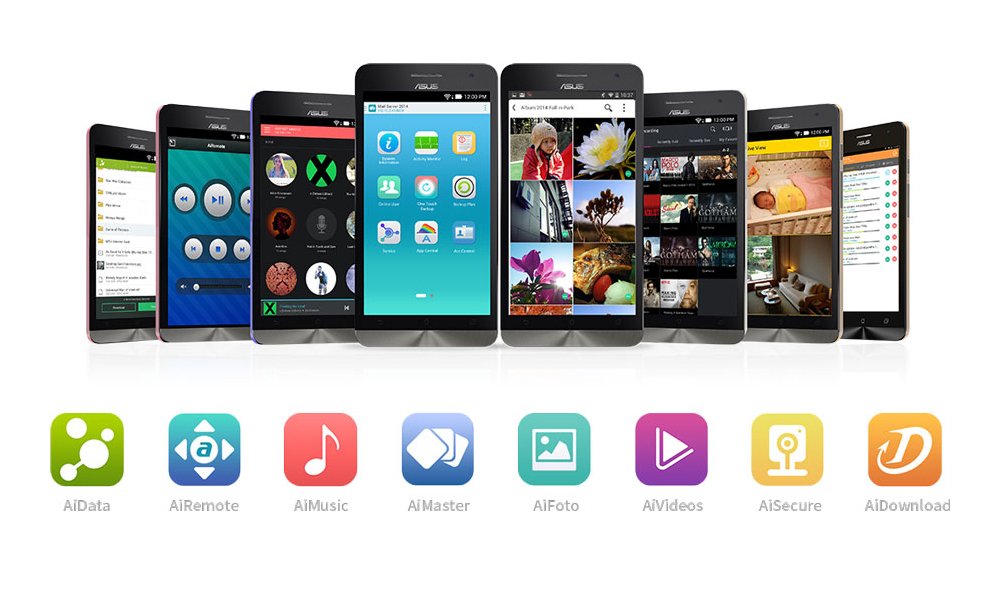 App Central
Scatena il potenziale illimitato del tuo NAS ASUSTOR. Le applicazioni che vengono pre-installate su ogni dispositivo ASUSTOR sono quelle base. A vostro piacimento, è possibile sfogliare e scaricare tutte le applicazioni che sono di vostro interesse. Con oltre 200 applicazioni uniche, App Central vi offre la varietà infinita di applicazioni che si richiedono per soddisfare le vostre esigenze per la vostra vita digitale. Esplora il potenziale illimitato dei dispositivi ASUSTOR e crea un NAS personalizzato per te.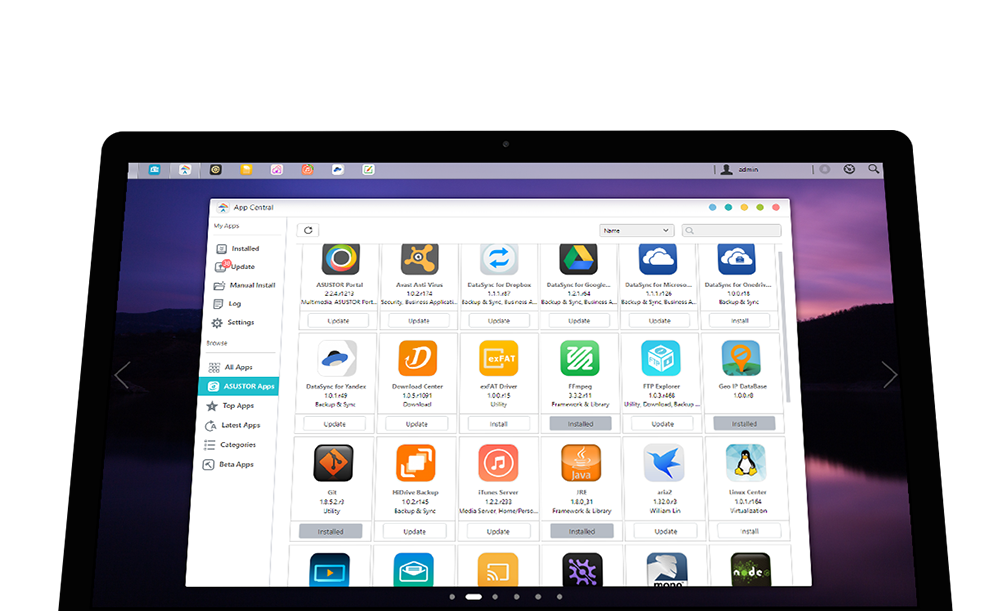 Il vostro Cinema personale: LooksGood
LooksGood vi permette di sfogliare e gestire i contenuti multimediali presenti sul NAS ASUSTOR. Potete organizzare i contenuti in differenti categorie, riprodurre la TV Digitale in tempo reale e pianificare la registrazione dei vostri programmi preferiti. L'esclusiva tecnologia Hyper-Transcoding vi permette di convertire i file velocemente, assicurando la massima compatibilità con tutti i device Apple. When used with the AiVideos mobile app, this creates the smoothest streaming playback experience around for iPhones and iPads.
Supporta Chromecast
|
Supporta DLNA
|
Supporta Apple TV (AiVideos)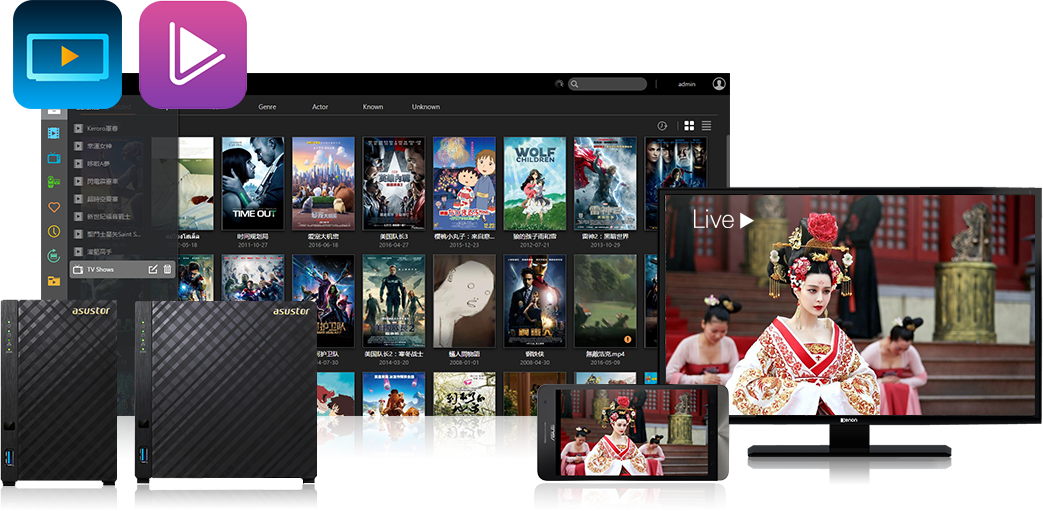 Sistema di sorveglianza ottimale
Il potente NAS ASUSTOR NAS fornisce affidabilità ottimali per la casa e SMB al fine di istituire un sistema di sorveglianza. 4 canali per la gestione delle telecamere risultano liberi ed offerti, il che lo rende una soluzione di sorveglianza estremamente conveniente per gli utenti con esigenze più piccole. Per gli utenti con esigenze più grandi, il numero dei canali delle telecamere può essere aumentata fino a 8 tramite tramite l'acquisto di licenze. Dopo l'installazione di Surveillance Center e la sua corrispondente app mobile AiSecure, gli utenti saranno inoltre in grado di osservare la sorveglianza in tempo reale su i loro smartphone, tenendo d'occhio le cose a loro più preziose.
Installa il tuo sistema di sorveglianza in un lampo
Inizia installazione guidata
Ricerca automatica telecamera
Aggiungi telecamere con un solo click
Configura formato video
Configura la pianificazione delle registrazioni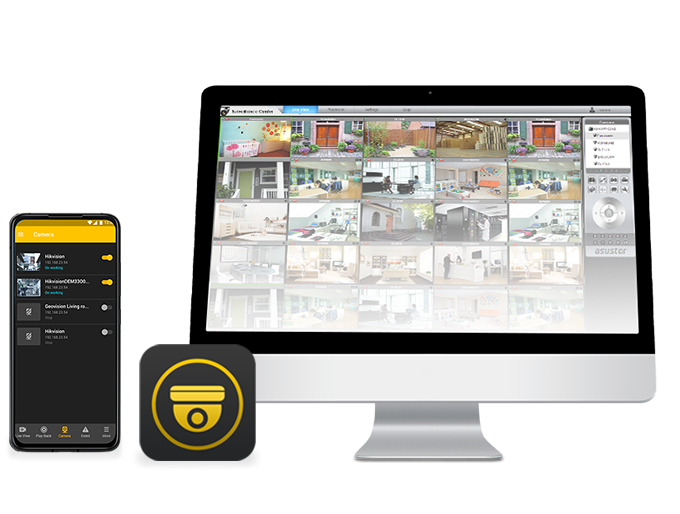 Rivedi I tuoi ricordi preferiti tramite Photo Gallery
Vacanze, riunioni, feste, tutto questo è indimenticabile. Photo Gallery vi aiuta ad organizzare le vostre foto ed I ricordi della vostra vita. Le cover degli album visualizzano fino a 5 anteprime in icona per poter facilmente riconoscere le raccolte. La modalità 1-click sharing permette di condividere sui canali social le vostre foto mentre AiFoto provvederà a fare il backup da smartphone a NAS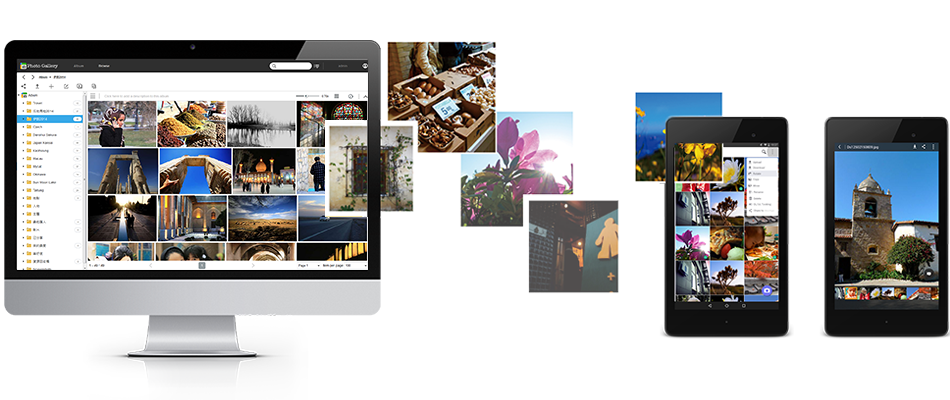 Music Box SoundsGood
SoundsGood è un player multimediale Web che riproduce tutta la musica immagazzinata nel NAS direttamente su Internet. Ora potete accedervi da qualunque posto e condividere I contenuti con I vostri amici. Tramite SoundsGood ogni utente può avere la propria playlist. Potete anche riprodurre la musica direttamente dal NAS sul vostro smartphone dopo aver installato AiMusic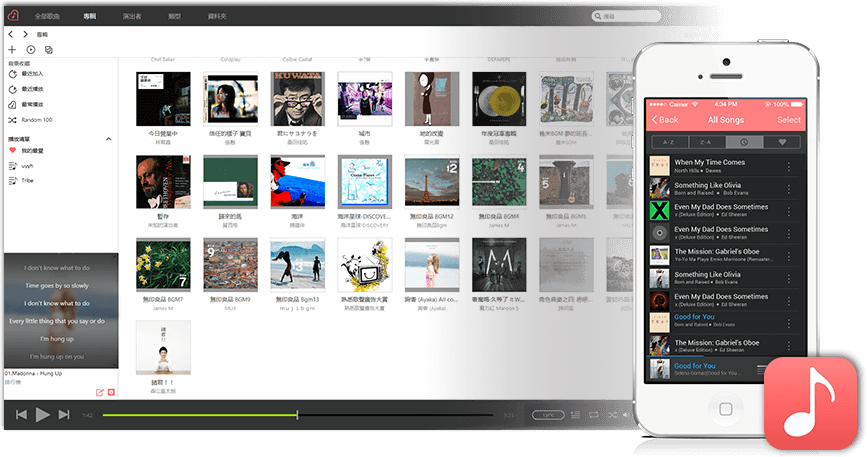 iTunes Server
tutta la tua musica. Dovunque.
State ancora immagazzinando tutta la vostra musica e la vostra collezione di film su diversi computer ? State finendo lo spazio? iTUnes Server è quello che vi serve. Ora potete immagazzinare tutta la vostra musica e I vostri film nel NAS e riprodurli tramite Windows o MAC OS all'interno della rete locale. AirPlay, iOS, connessione e playlist remote sono supportati.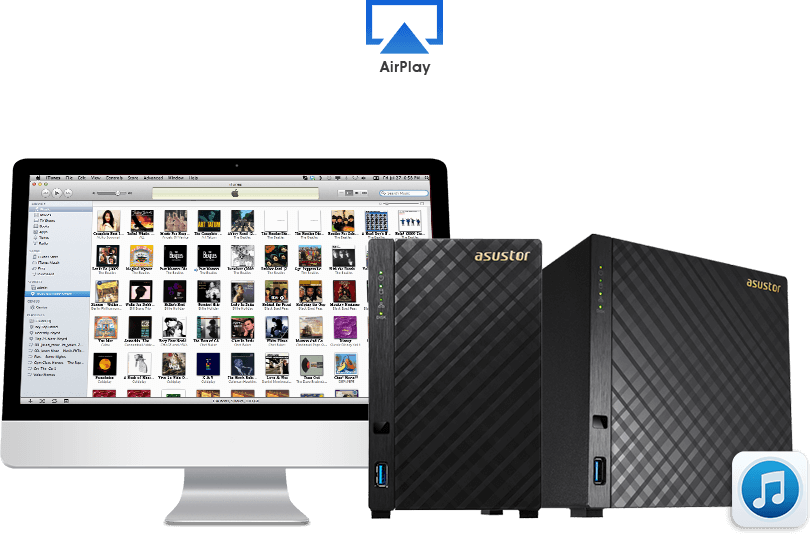 Returns Policy
All products sold by aaawave.com are brand new and carry the manufacturer's full warranty. All products advertised as BULK or OEM are brand new and carry the manufacturer's full warranty.
*Note: "BULK" and "OEM" items do not come in a retail type of packaging, do not include hardware, accessories, cables,software, or literature. Unless otherwise noted.
All products are shipped to the customer the exact same way that we receive them from the manufacturer. We are NOT responsible for physical damage or misuse of the product, damage or misuse of the product will automatically void the manufacturer warranty.
* Note: aaawave.com does not accept returns for refunds or exchanges of the following items: Product listings that state "Limited Supply, All sales are final". Open Software and Software Product Keycards. The sales of all the items aforementioned are considered final.
Schedule and Time
aaawave.com offers a 30 day return/exchange policy, unless otherwise noted. The return/exchange policy begins on the customers purchase date. No returns or exchanges will be accepted after 30 days. All refunds will be made back to the customer's original form of payment within 7 business days of receiving the return merchandise. Return Merchandise Authorization number (RMA) are valid for only 10 business days. Packages must be received by us within 10 business days after the RMA number has been issued. Packages received after 10 business days will not be accepted and the warranty period will be considered voided and cancelled. RMA processing time is 5-7 business days once the package has been received.

Extra Charge
There is a restocking fee of 15% on all returns for refund. We charge this 15% restocking fee for all returns for refund to encourage customers to purchase products they intend to keep. We offer RMA replacement without any restocking fee to customers who have received a defective product. Shipping costs is non-refundable. Product exchanges can be accepted for defective items, the same exact item only. Product returns can be accepted for defective items only. Product returns for non-defective items will incur a 15% re-stocking fee, deducted from the refund amount.

Customer's Duty
aaawave.com does NOT offer "Advanced Replacement" for the exchange of defective merchandise. aaawave.com does NOT pay the return shipping costs for defective merchandise. We are NOT responsible for product defects, because we do not manufacture the products we sell. aaawave.com will pay for shipping "Back to the customer" for exchange of defective items. All returns and exchanges must be accompanied with a Return Merchandise Authorization number (RMA number). Please contact us for a RMA number prior to sending your package. aaawave.com will NOT accept packages without prior authorization and a RMA number. All packages being shipped to aaawave.com must have a valid tracking number that is with a major courier such as UPS, FEDEX, or USPS.